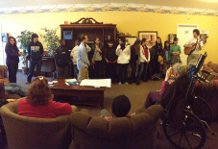 "We are here as a group of friends striving to help one another be better and to help those around us." 
This was the purpose of a group of Junior Youth, ages 11-14 that came together for the long weekend.  From 9 in the morning to 7 at night, this vibrant group of individuls proved that they can make a difference.  The middle schoolers studied a text about someone their age going through similar questions in their lives.  They discussed what their talents are and what they want to do when they grow up.  They participated in the arts and service to the community. On the second day of their activities, the group visited a nearby senior center to sing songs with beautiful messages such as:
Where there is love, nothing is too much trouble, and there is always time
and
Let your heart burn with loving kindness for all that may cross your path.
They also discussed how they can practice spiritual and intellectual excellence in their lives.  The group discussed deep issues such as what they would do to help the homeless.  They bonded over shared feelings that may be difficult to discuss for this age group such as feelings of being alone, dealing with loss, or not sure how to belong to a group.  The activities served the purpose to allow the group to see how they share similar emotions and experiences.
The weekend commenced with a community event where the group shared what they had accomplished in a beautifully organized presentation that included excerpts of their learnings as well as many of the songs they had sung together.  Included was a pizza dinner that the Junior Youth had prepared themselves.
As a result of the weekend, the Junior Youth will continue to meet on a weekly basis every Sunday.  They have already decided to do monthly service projects.  In the plans now are visits to the hospital and Northwest Harvest.
For more information on Junior Youth classes in the Kent area, click on the Contact Us tab at the top of this page.  Junior Youth groups are open to the public.